The All New MSN for Windows 8
The launch of Windows 8 and Internet Explorer 10 will change the way we use devices and the internet. It opens up a new class of opportunities for us to reimagine all of our products and services including MSN. MSN with more than 480 million visitors per month is the top site in 27 markets and remains one of the most popular media destinations on the Internet.
When we saw what Windows 8 and IE 10 could make possible, we saw possibilities we had never before imagined. We thought deeply about how you could interact with MSN in an increasingly touch and tablet-friendly world. We envisioned something completely new and refreshing that would surprise and delight. Something built from the ground up that harnesses the new technical capabilities in Windows 8 and Internet Explorer 10.
Staying in the know just got easier and faster. Designed exclusively for Windows 8, the all new MSN will be the first thing you experience when you launch Internet Explorer 10 on your new device.
Available October 26th, MSN for Windows 8 gives you a place where you can be informed, decompress and let your curiosity reign. From the updated user interface to blazing fast speed and comprehensive content, MSN showcases what it does best – instant access to the information you want.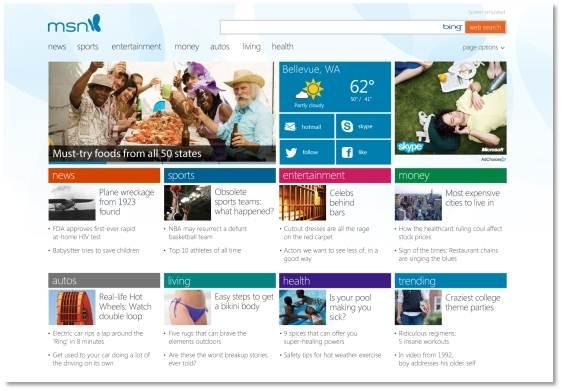 Fluid Design
At first glance, you will notice the new look and feel. The new MSN is a full-screen experience that is clean, simple and built for touch. Whether you're reading daily headlines or catching up on the latest gossip, the experience is intuitive and consistent. The content flows from the homepage to channels without interrupting the visual layout, and you'll know what stories are most important, just by viewing the size of the story tile.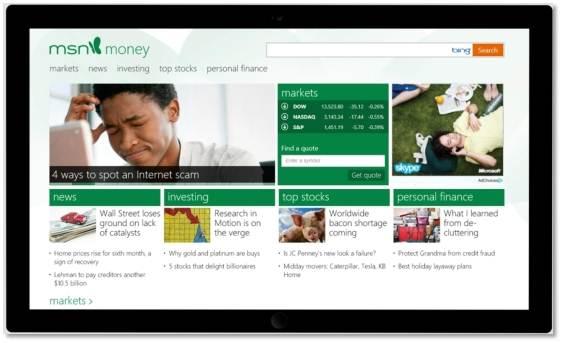 News You Want, Faster
MSN for Windows 8 is built for speed. Because Internet Explorer 10 was designed to take advantage of the system architecture of Windows 8, rendering complex page layouts and high resolution images is faster and more fluid. Now you can easily view images, slideshows and videos, without compromising the overall experience. The result is a cleaner more "app-like" experience that allows you use the Flip Ahead feature to swiftly jump from article to article with a simple gesture. The pages render twice as fast as the classic MSN web experience. You can use the Snap feature to snap a given page to the side of screen – say your favorite stock- while you engage in another program or page.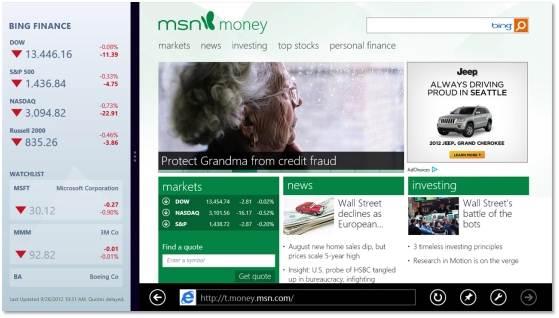 Comprehensive and Consistent Content
We all want to know what's happening in the world. In fact, more than 90 percent of us who use the internet say the need to feel informed is our top priority for going online. With years of delivering award winning editorial, MSN will continue to be the premiere destination for keeping people informed and entertained.
MSN for Windows 8 brings you trusted, world-class news from a variety of sources, including new content relationships with the Associated Press and Reuters. We're are also introducing MSN News which is designed to deliver the news you're looking for, how you're looking for it. It will deliver short succinct news bites from 300-500 words providing you with quick snap-shots of information. Whether you're reading news, sports or money, the experience is intuitive and consistent across categories and channels.
Availability
The experience will be available on October 26th, but to learn more check back here or follow us:
- Bob Visse, General Manager, MSN